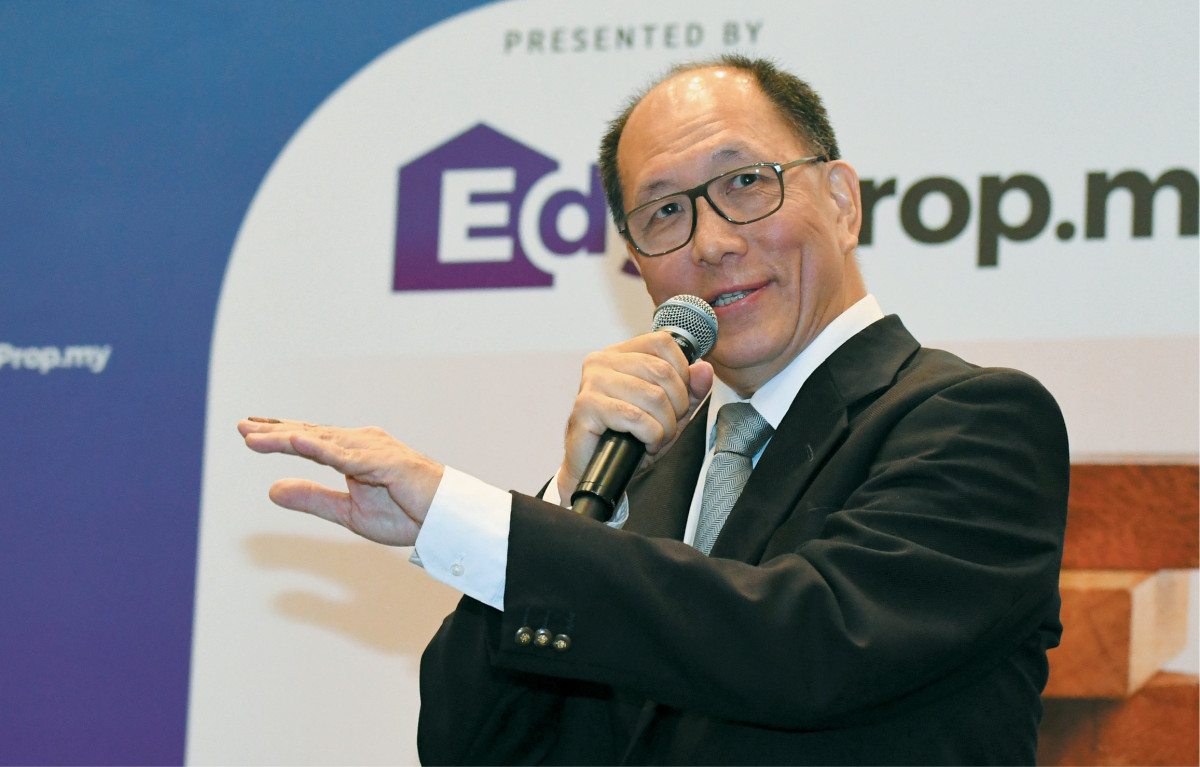 Khaw: If residents want to influence what happens in their development, they need to take responsibility for their condominium and serve in the committee because a successfully [managed] condominium always has a good management committee. (Photo by Low Yen Yeing/EdgeProp.my)
Being a member of the management committee of a management corporation (MC) is no walk in the park. Based on his experience, Sri Penaga Condominium MC chairman Khaw Chay Tee believes that to be an effective MC, it would entail continuous effort and hard work from its committee members.
"It is not just to turn up during a meeting, give instructions to the property management company and go home," he said in his talk entitled "Without fear of favour — tested sustainable community living" at the EdgeProp.my Symposium on Excellent Property Management 2018 held at Hilton Kuala Lumpur Hotel on Saturday.
Themed "Mistakes you CAN'T afford to make!", the symposium was organised by EdgeProp.my with partners Nippon Paint Malaysia and Panasonic Malaysia. Supporting sponsors were Gamuda Land, Red Ideas Sdn Bhd (Graaab JaGaApp) and Zurich General Insurance Malaysia Bhd. It was also supported by The Edge Malaysia.
"The MC will set the standards where you live in. Most people who move into the condominium feel that it is too much trouble to get involved in [the management of the condominium]," he said, adding that many would also hire a property management company and expect everything to be done without inconveniencing them.
"However, no matter how good a property management company is in managing the development, it will still require direction and constant oversight [from the MC]," Khaw explained.
He added that the MC has to oversee the property management company closely because "it is important to get it right the first time round instead of rectifying mistakes later".
Sri Penaga Condominium in Bangsar, Kuala Lumpur was developed by Bandar Raya Developments Bhd (now BRDB Developments Sdn Bhd) in June 1995. It comprises 304 units across two 22-storey blocks and one 7-storey block. The condominium was one of the Gold winners in the recently concluded EdgeProp.my Malaysia's Best Managed Property Awards Khaw said that most condominium residents are reluctant to sit on the MC board as it involves too much time and work. However, Khaw noted, "if residents want to influence what happens in their development, they need to take responsibility for their condominium and serve in the committee because a successfully [managed] condominium always has a good management committee.2018.
"If you really want to serve, turn up at the annual general meeting, put in your nomination form and get elected."
Unfortunately, he noted that there are no clear guidelines for committee members in current laws. This has prompted the Sri Penaga Condominium MC to formulate its own Code of Conduct for its committee members.
One of the requirements in the Code of Conduct is that a committee member must serve conscientiously, honestly and impartially. "It is important to serve impartially because it is crucial to create trust. We also note that committee members need to make decisions based on the best interests of Sri Penaga Condominium MC as well as of all the owners and residents of the condominium. There will be some [members] who come on board with an agenda — it is inevitable. But the agenda must fit in with the rest of the community," said Khaw.
On top of that, committee members are also prohibited from seeking or accepting any fee, remuneration, reward or any other favour for any act done or not done as a committee member.
"I understand that there are some MCs that during their AGMs have voted for remuneration for committee members. That's fine but they must know what they are doing," he added.
The 6Cs of community living
Khaw also shared Sri Penaga Condominium's 6Cs of community living — commitment, competence, compliance, consistency, continuity and courtesy.
Front liners who are managing the development must be competent and committed in carrying out their tasks while enforcing by-laws and house rules in the community, thus ensuring compliance.
"You need to ensure that the by-laws and house rules are followed (compliance) and not just there for the sake of being there. If you are not living in a community, then maybe you can do whatever you want, but not when you are living in a community," he stressed, citing for instance when a homeowner wants to carry out renovations.
"The concrete shear walls and floors form the condominium's load-bearing walls. As such, indiscriminate hacking of the shear walls or floors may cause the building to suffer structural damage or failure," he explained.
Hence, Sri Penaga Condominium has very strict by-laws and regulations governing renovation work, which needs to be clearly and patiently explained to owners who want to carry out major renovations.
Sri Penaga Condominium's MC team also adopts a strict maintenance culture that ensures the continuity of the development.
"Our swimming pool pump is still functioning after 22 years. Even the original tiles are still being used in the common areas. We also had a slope-strengthening exercise at Jalan Maarof in 2012," said Khaw.
Last but not least, he stressed that there must be consistency in providing equal treatment to all owners and residents and for courtesy to be prevalent in the community.
"There should be no expectation that just because you are sitting on the board, you deserve special treatment. Everyone is treated the same. The committee members must also treat their colleagues, the owners and residents of Sri Penaga Condominium and all the service personnel there with courtesy and respect," he concluded.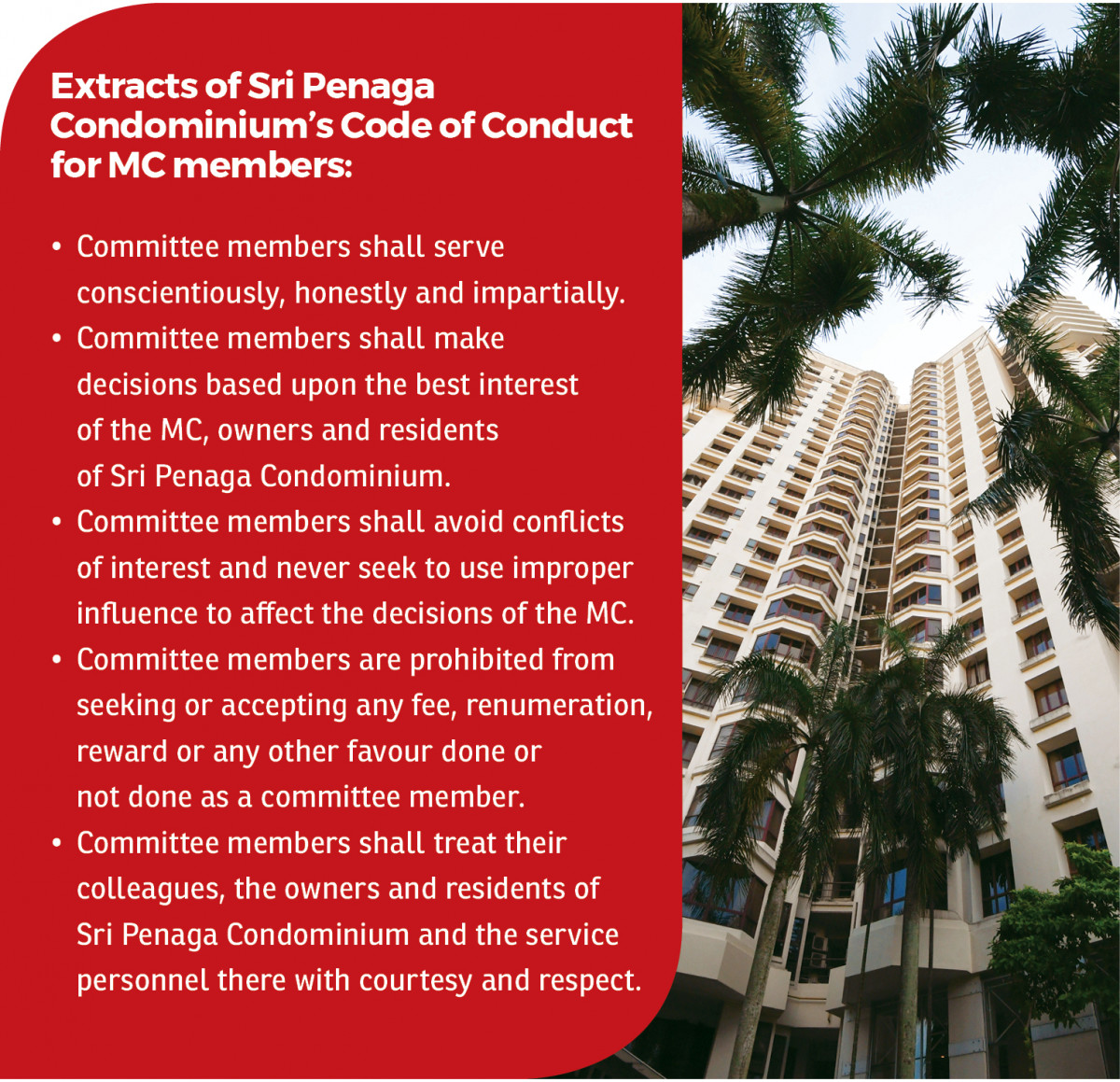 This story first appeared in EdgeProp.my pullout on May 17, 2018.