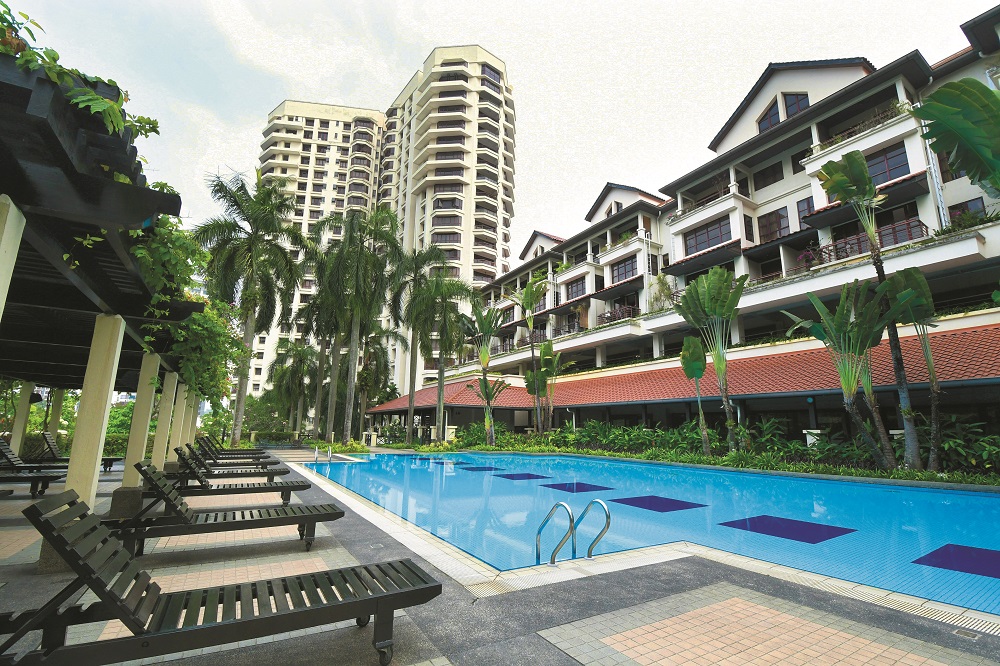 Completed in June 1995, the development has three unique selling points — its location and accessibility, environment and security. (Photos by Low Yen Yeing/EdgeProp.my)
Sri Penaga Condominium in Bangsar by Bandar Raya Developments Bhd (now BRDB Developments Sdn Bhd) was completed in June 1995. It comprises 304 units across two 22-storey blocks and one 7-storey block.
This resort-like condominium has been maintained so well that even the tiles in its common area are still the original ones used. The Joint Gold winner in the above 10 years multi-own strata residential category at EdgeProp Malaysia's Best Managed Property Awards 2018 certainly does not look its age. The other winner was Mont'Kiara Palma.
Some of the biggest challenges in managing an older building is dealing with owners' proposals for major apartment renovations, says management committee (MC) chairman Khaw Chay Tee.
Concrete shear walls and floors form the condominium's load-bearing walls that replace the conventional reinforced concrete columns and beams.
"As such, any indiscriminate hacking of the shear walls or floors may cause the building to suffer structural damage or failure. Sri Penaga therefore has very strict by-laws and regulations governing renovation work, which needs to be clearly and patiently explained to owners who want to carry out major renovations to their apartments. Each renovation requires close monitoring to ensure compliance," he says.
Another issue is inter-unit leaks, which the property management team handles in accordance with the Strata Management Act 2013 and Strata Management Regulations.
"The team has to constantly remind owners to change the piping system in their unit to avoid leakages, especially when they carry out renovations," he adds.
According to Khaw, Sri Penaga has three unique selling points: its location and accessibility, environment, and security.
It is near Bangsar Shopping Centre, DC Mall and Pusat Bandar Damansara Mass Rapid Transit Station, and is easily accessible via the Jalan Duta-Sungai Buloh Highway, Kerinchi Link, New Pantai Expressway and SPRINT Highway.
The condominium boasts an array of recreational facilities and conveniences, as well as ample security features.
Monthly collection rates of the service fee and sinking fund contribution average around 95% to 100%. Since the handover from the developer in 1996, Sri Penaga has only increased its service charge and sinking fund contribution twice.
In 2010, contributions were raised from RM0.28 psf to RM0.38 psf. Then, in 2016, contributions were raised from RM4.10 per share unit (equivalent to RM0.38 psf) to the current RM4.61 per share unit (equivalent to RM0.43 psf).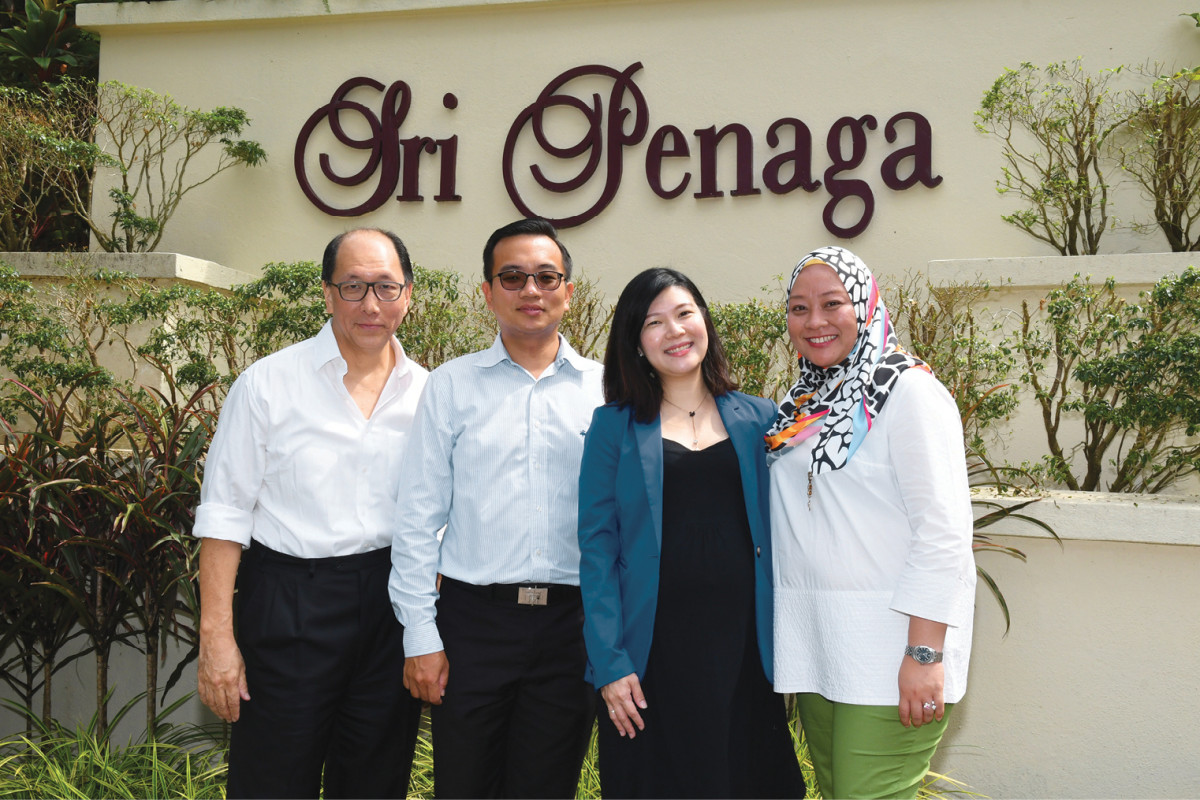 (From left) Khaw, Low, Henry Butcher Malaysia (Mont'Kiara) senior manager Jessie Koh and Sri Penaga building manager Razidah Hamzah.
Khaw, who is a retired legal practitioner, has an interesting management rule he calls the "Sunshine Test". Essentially, all decisions should be able to withstand the glare of "the sun", or public scrutiny.
This test was applied when Sri Penaga was repainted a few years ago. Following a tender exercise, the most expensive bid was chosen because the company used silicate paint and offered a 10-year warranty.
Then, the MC received anonymous letters questioning why the most expensive bid was chosen.
In response, the MC revealed the contract and then called for an extraordinary general meeting to explain why the company was chosen. "It had painted a lot of condominiums in Mont'Kiara, which still looked good after 10 to 12 years. Only one layer of its paint was needed instead of the usual two, cutting down the time to complete the work, thus reducing the inconvenience on residents.
"At the meeting, the resolution was passed with a substantial majority, likely because the committee was very transparent with the information and they had grounds for picking that tender," he recalls.
Henry Butcher Malaysia (Mont'Kiara) Sdn Bhd executive director Low Hon Keong says the relationship between the MC and property manager is crucial. Henry Butcher is the property management company of Sri Penaga.
"There needs to be constant communication as any problem must be directly discussed with the committee so we can work out the best solution together," he says.
Residents have access to their on-site property management team during working hours. Besides that, Sri Penaga's web portal has a community board and service desk, and offers 24-hour access to the property management team.
Khaw says the award recognises the hard work of the MC and property management team, especially its two longest-serving staff — building manager Razidah Hamzah and charge-man Parithiban Raman, who have worked at Sri Penaga from day one.
"The property management team really takes pride in their work. It is not just about getting work done, but also taking ownership of their work. This award will also enable us to share our experience and knowledge so others can learn the best practices in Malaysia," says Khaw.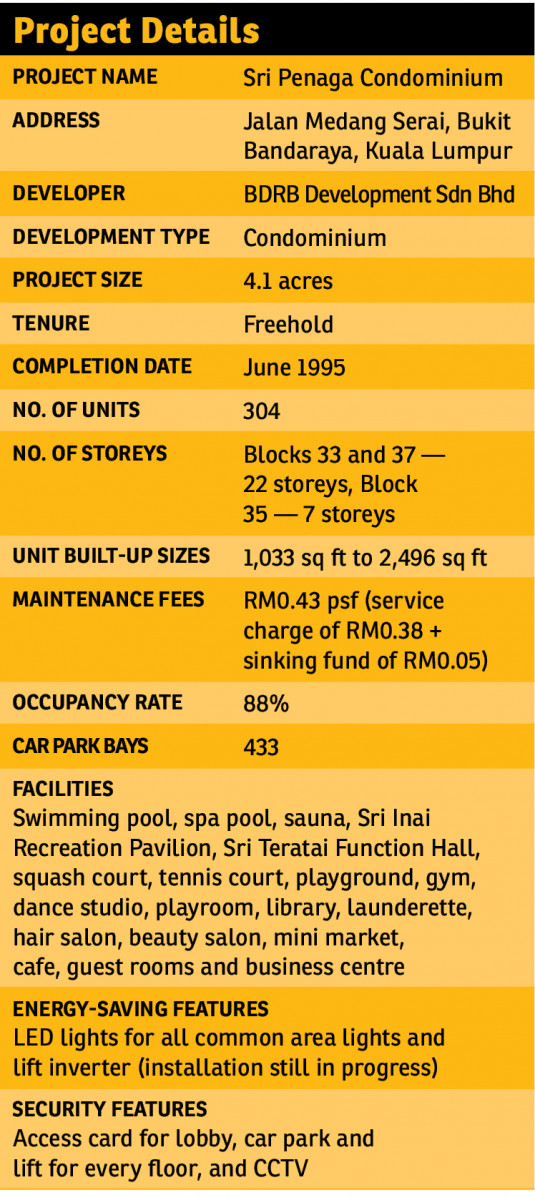 This story first appeared in EdgeProp.my pullout on May 11, 2018.